IMS Precision Shower Screen (E61200IM)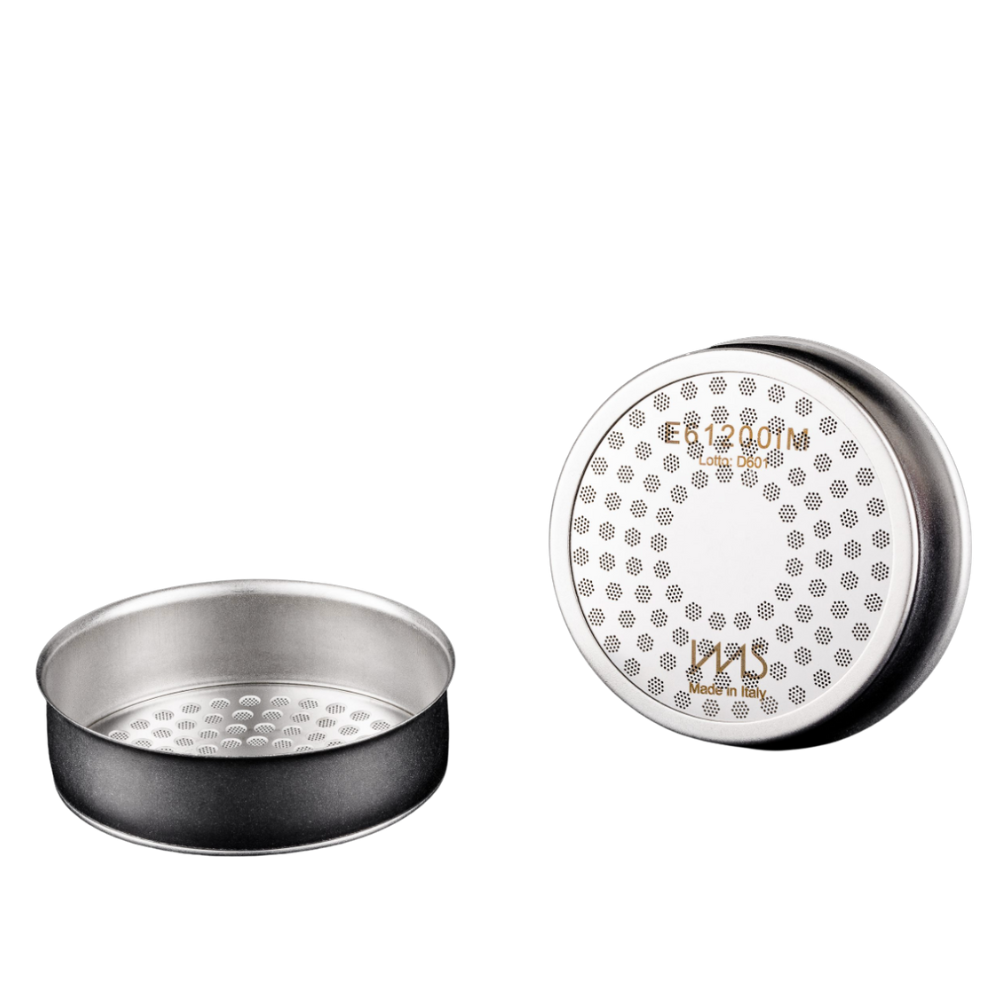 IMS Precision Shower Screen (E61200IM)
Made in Italy
INTEGRATED MEMBRANE SHOWER SCREEN
The integrated membrane shower screen is made of a single filtering part in stainless steel obtained through a process of photo-etching: special micro-perforations are made inside the thickness of the shower to obtain a filtering power of 200 µm.
Its main characteristic is the exclusive design of its perforations, which, in addition to guaranteeing better distribution, makes this product last longer and easy to clean. Indeed, being made out of a single part, the shower body is more resistant and its surface is totally smooth and free from rough spots where dirt can deposit and accumulate.
PASSAGE: 200μm
BODY DIAMETER: 56.5mm
BORDER DIAMETER: 60mm
WALL HEIGHT: 17mm external

Compatibility
Ascaso – Baby, Bellezza – Chiara, Bellezza – Chiara leva, Bellezza – Francesca, Bellezza – Francesca Leva, Bellezza – Inizio V, Bellezza – Inizio V Leva, Bellezza – Valentina, Bellezza – Valentina Leva, Bezzera – Aria, Bezzera – Magica, Bezzera – Matrix MN, Bezzera – Mitica, Bezzera – Strega, Bezzera – Unica, Bosco – Sorrento, Casadio – A1, Casadio – Undici, ECM – Classika, ECM – Elektronika, ECM – Mechanika, ECM – Puristika, ECM – Synchronika, ECM – Technika, ECM – V Slim, Expobar – Brewtus, Expobar – Office Leva, Faema – E61, Faema – E71, Faema – President, Faema – Prestige, Faema – Teorema, Gaggia – GX Espresso, Grimac – Aosta, Grimac – Arena, Grimac – BLQ, Grimac – Ducale, Grimac – K2, Grimac – Leva, Grimac – Superior, Iberital – IB7, Iberital – Intenz, Iberital – New, Iberital – Tandem, Isomac – Millenium, Kees Van Der Westen – Mirage, Kees Van Der Westen – Slim Jim, Kees Van Der Westen – Speedster, Kees Van Der Westen – Spirit, La Pavoni – Botticelli, La Pavoni – Cellini, Lelit – Bianca, Lelit – Giulietta, Lelit – Kate, Lelit – MaraX, Profitec – Pro 400, Profitec – Pro 500, Profitec – Pro 600, Profitec – Pro 700, Profitec – Pro 800, Rocket – Appartamento, Rocket – Cronometro, Rocket – E61, Rocket – Giotto, Rocket – Mozzafiato, Rocket – Porta Via, Rocket – R58, Rocket – R60V, Sanremo – Cafè Racer, Sanremo – Cube, Sanremo – Opera, Sanremo – X One, Sanremo – You, Sanremo – Zoe, VBM – Domobar, Wega – Airy, Wega – Io, Wega – Mininova, Wega – MyConcept, Wega – Nova, Wega – Pegaso, Wega – Polaris, Wega – Sphera, Wega – Urban, Wega – Vela Vintage, Wega – Wbar
Installments are available via Atome for 3-month split payments, 0% interest.
Checkouts made via PayMongo can pay via GCash, Credit and Debit Cards. For PayMaya, GrabPay, and OTC payments (7-Eleven, Cebuana, MLhuiller), please choose the PayMongo payment link option upon checkout.
Note: We don't accept or request payments to personal accounts.
For NCR, orders can be shipped on the same day to next day. Same-day shipping is possible but not guaranteed. For orders outside NCR, shipping lead times by the courier will apply.
Cash On Delivery method has different shipping lead times, they are displayed when choosing COD upon checkout.
Other products are classified as oversized or perishables due to their size and weight. They have fixed shipping fees.
For more information, please visit our shipping policy and lead times.
Not sure which size or part you need? Please send us a message via our contact form or any of our social media channels. We will be more than happy to assist you.